Though his photographs are realistic and often have a political or social subtext, Andrew Miksys '87 does not identify as a photojournalist. His is a fine art photographer drawn to people who live on the edges of society.
"I like people who are not in the mainstream—how they fit or create their own organic subculture," says Andrew who grew up in Seattle but now lives in Lithuania with his wife, Ernesta, and twins born in April 2021: a daughter, Tulip, and a son, Arok.
Internationally Recognized
Andrew's photography has been shown internationally, including exhibitions at the Seattle Art Museum, Vilnius Contemporary Art Centre, Kaunas Gallery, the "Ў" Gallery of Contemporary Art in Minsk, and Maureen Paley Gallery. He has been the recipient of grants from the Guggenheim Foundation, Fulbright, and the Aaron Siskind Foundation. In 2016, he was awarded the Balys Buračas Prize for Photography by the Lithuanian Cultural Ministry.
Additionally, he has published several books of his images through his publishing imprint ARÖK Books, including DISKO (2013) from his series about Lithuanian village discos, and TULIPS (2016), a book about Belarus and the political situation there. His earlier work centered on the Roma, the so-called gypsies of Lithuania.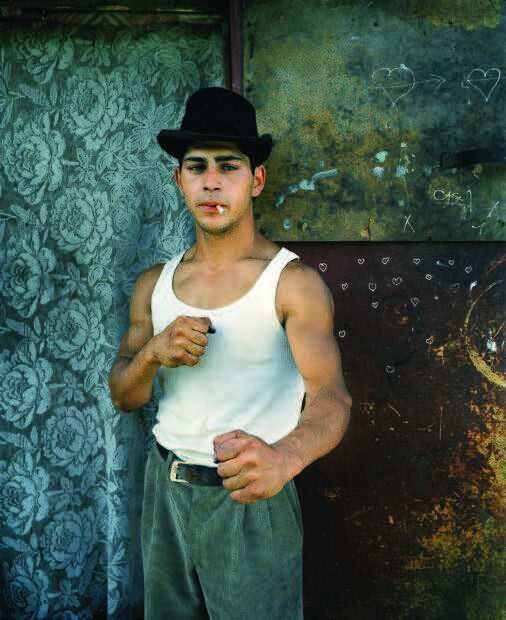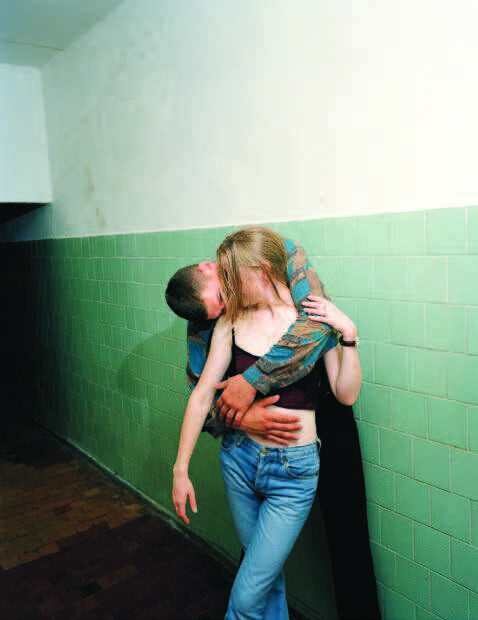 "I choose subjects I want to learn more about and I start at zero and learn along the way. I ask some questions and leave it open," explains Andrew. "When I'm shooting, I rely on intuition and when I see something I don't expect I think, I don't know what this is but I'll figure it out. In Lithuania, I bought a cheap car and wandered around to villages, photographed a lot, then later looked and found a few images I thought I could make something out of. Then I built on those photographs."
Finding One's Roots
For the last fifteen years Andrew has lived in Lithuania where his family has roots; his father was born there. At the end of WWII when the Soviets moved in to occupy Lithuania, Andrew's grandparents fled on a horse and buggy with his father who was two years old. They made their way to Germany, spent five years in a refugee camp, and then were able to come to the U.S. The trauma his father suffered took a lasting toll.
I didn't grow up in the Lithuanian culture," says Andrew who attended The Northwest School in 11th and 12th grades. "At Northwest they taught Russian at the time but my dad would not let me take it. I had to take Latin. I learned about an event on Capitol Hill when they were unveiling a statue in partnership with Seattle's sister city Tashkent (U.S.S.R.) and when my dad found out, he started yelling. He couldn't understand why I'd want to go see it."
Although Northwest did not have a photography program at the time, Andrew knew photography was what he wanted to do. Andrew's father was a good amateur photographer and took all of the photos for Bingo Today, a newspaper he published in Seattle for 27 years. As a teenager, Andrew delivered the paper to bingo halls
and convenience stores like 7-Eleven all over the city. Eventually, Andrew took a camera with him and started taking photos in the bingo halls.

Developing an Artist's Sensibility
At the same time, Andrew was developing sensibilities
at Northwest that would serve him as a fine art photographer. My classmates were from all over Seattle, all different kinds of people who were really interested in their own thing: acting, dancing, music. It was really cool to see that," says Andrew.
At a deeper level, he was learning to be politically and socially active and to connect to community, values he is guided by today in his photo projects and in his life.
Paul Raymond would come into class and have the New York Times, and he would teach just by talking about what he was reading and doing. He was so politically active. In 12th grade we had to work on a political campaign and Paul talked about making a decision and voting. That stuck with me my whole life. I get so excited about voting."
Andrew names other Northwest teachers—Floyd Standifer, Mark Terry, Ellen Taussig—who made a great impression on him. "They really changed me'" confirms Andrew. "I realized I could do things with my energy and interests. Things connected."
Getting Serious about Photography
After graduating from Northwest, Andrew headed to Hampshire College in Massachusetts for its photography and filmmaking program. There he studied history, law, and photography. Says Andrew, That's when I got serious."
After college, Andrew decided he needed some life experience, so he traveled, first to Santa Fe, New Mexico, where he started assisting photographers. Then he spent time in New York and ended up in New Orleans.
"I learned about a fellowship program at LSU where
they would pay you to get your master's," says Andrew. "I got my MFA in photography and filmmaking there—I was already motivated to do my own projects; all I needed was time and space to do my work."
Andrew received a Fulbright Fellowship and went to Lithuania for the first time. He photographed for a year then came back to LSU to teach for a year. Then he got a Guggenheim Fellowship and went back to Lithuania. There he started working on all the projects he has now made into books.
According to Andrew, self-publishing one's work has become a great way for many artists in the last 15 years to show their work. "You are directing the way people are seeing the images through the sequencing, the design, and the way the images are placed on the page. There are these huge book fairs in New York and Los Angeles, and I sell my books through those."
Meanwhile, Andrew's journey as an artist has come full circle. Building on all the photos he took as a teenage delivery boy, his new book, released in July 2021, is titled BINGO.