Transportation
Getting to School
There are three ways for you and your peers to get to school if you don't live within walking or biking distance: NWS bus transportation, public transportation, and drop-off/pickup.
NWS Bus Transportation

The Northwest School is pleased to offer safe and reliable bus service staffed by our very own drivers. This service helps reduce traffic and our carbon footprint. Our bus service provides one-way or roundtrip transportation in the greater Seattle area.
We currently offer five bus routes to the following areas of the city:
Northwest (Ballard, Magnolia, Queen Anne)
Northeast (Victory Heights, Wedgewood, University of Washington)
West Seattle (Fauntleroy, Westwood Village, White Center)
Southeast (South Seattle, Renton, Kubota Garden, Columbia City)
Eastside (Redmond, Kirkland, Bellevue, Mercer Island)
Our bus service also allows us to provide transportation (from and back to school) for special events, such as ski trips and fan trips to off-site Northwest games.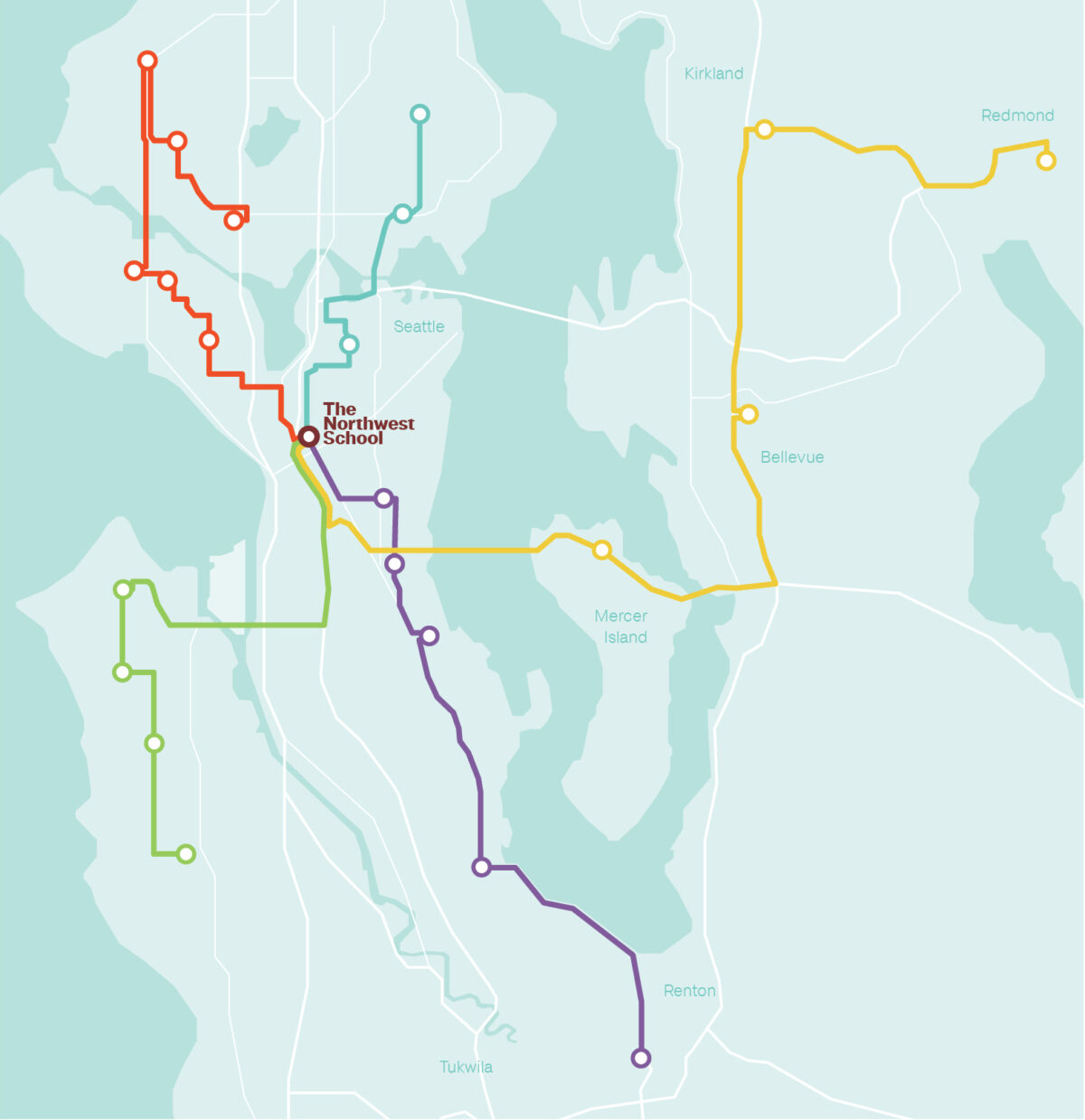 Public Transportation
Access to the school is generally easiest from all outlying areas by following these steps:
Take any Metro bus or Sound Transit train to downtown.
Transfer at 4th and Pike to any eastbound Pike Street bus (routes 7, 10, 11, 14, 43).
Get off at the Minor Avenue stop (first stop after Boren Avenue).
The Convention Center is a major transportation hub within a 5-minute walk from the school.
For King County Metro schedules, go to metro.kingcounty.gov or call Metro Transit at 206-553-3000.
For Sound Transit schedules, go to soundtransit.org or call 888-889-6368.
Drop-Off/Pickup
Students can be dropped off at the schoolhouse as early as 8:10 a.m. when the doors open. They'll wait for school to begin in areas supervised by faculty. And students can be picked up as late as 4:00 p.m. Parents and guardians also arrange carpools from their neighborhoods to school.