At thirteen years old, Shirin Etessam was among the first students to set foot in The House. When the school doors opened in September 1980, she arrived as a young 9th grader and marveled at what she saw "I felt I had landed either on some other planet—or in heaven," says Shirin, who is founder and content and  creative chief at Slay Agency in San Francisco. 

"It didn't look like a school; it looked like a house. I had no reference for it: no bells, no lockers, and being told we were responsible for taking care of the school. There is nothing more humbling than giving a teenager a broom in front of their friends and saying, 'No matter how cool you are you're going to sweep the staircase.'"
Four years earlier, Shirin and her older sister and mother had moved from their home in Iran to the United States. Her parents wanted to seek a better educational experience for their eldest daughter who was thirteen at the time. Then in 1979, Shirin's father was hired by University of Washington to teach architecture and the family moved to Seattle. Entering the public middle school in 8th grade, Shirin experienced what turned out to be a miserable year.
"It was right after of the Iran hostage crisis and as a young Iranian student I had a hard time. There was a lot of harassment and name calling. I was not happy." Her parents heard of a new school opening on Capitol Hill, and as soon as Shirin toured the campus she applied and got accepted.
Engaged in Books and Discussions
In Humanities classes, Shirin remembered having big philosophical discussions. "I remember reading The Dancing Wu Li Masters, by Gary Zukav, which was not typical high school reading material. The topics we covered engaged me differently than I ever had been."

Becoming a Creative
After graduating from Northwest, Shirin headed to San Francisco to pursue a degree in film with a minor in broadcasting at San Francisco State University. Though she wanted to continue acting her father worried that it wasn't a viable profession for her. "He was worried about an Iranian girl in L.A. trying to be an actress. He encouraged me to make films instead."
Digital Storytelling
In 1996, Shirin produced Walls of Sand, the first feature film to ever premier online (pre-Netflix, Hulu, and Amazon Prime). Later, she founded oml.tv (formerly onemorelesbian.com), which is a platform for streaming queer content. Last November, it became the first 24/7 LGBT channel in the world specifically focused on queer women. OML was really beautiful because it began as a passion play of mine, and now, it is a money maker. It has a huge reach: 250 million plus."
Meanwhile, as content and creative chief at Slay Agency, Shirin helps companies define and tell their brand and product stories through various formats and channels, including video, digital, print, social, and AR/VR. Her clients have included Facebook, StubHub, Intel, ServiceNow, Virgin, RingCentral, ABC, CBS, BBC, and Discovery. Along with her team at the agency, she is currently developing a TV series, among other exciting projects.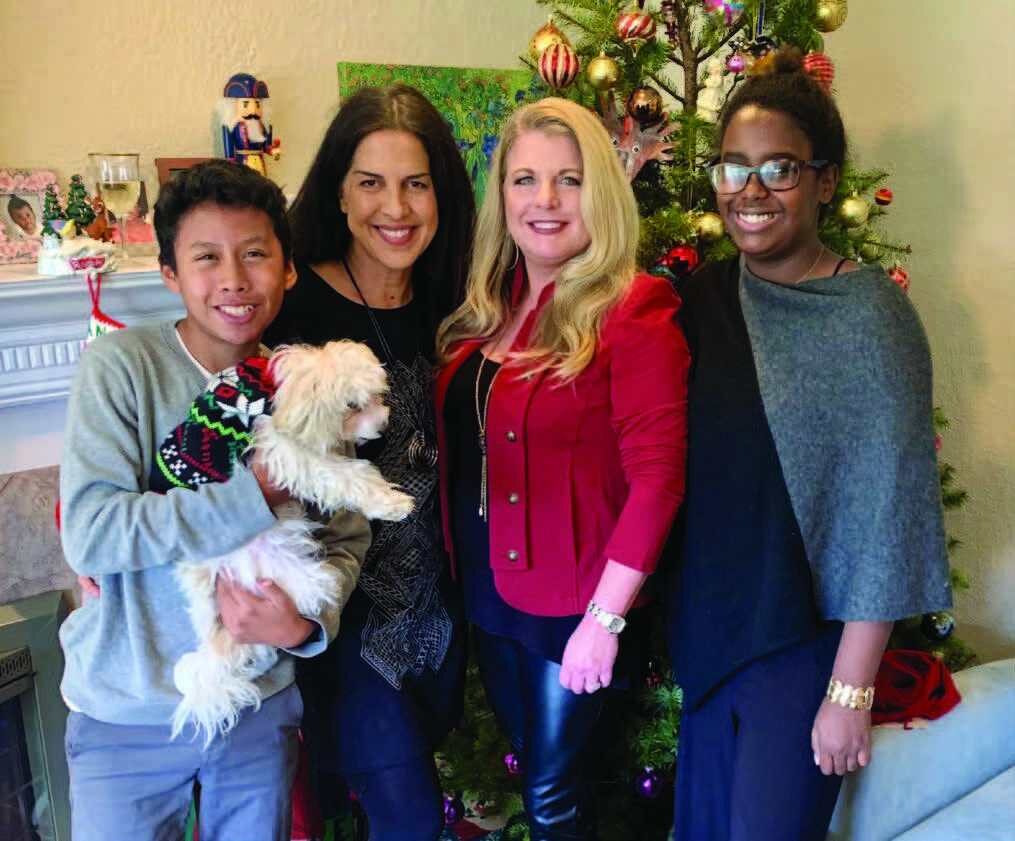 Parenting TikTokkers
Shirin has two children, both adopted as babies. Her son Kian, born in Guatemala, is 15 years old, and her daughter Iman, born in Ethiopia, is 13. "They're both
'TikTokers,'" Shirin says, smiling. "If they want to describe something as old and passe they say, 'Oh, that's so 2012!'"Shirin co-parents her children with her former partner and is now in a new relationship. She and Tracey Mason are engaged and hope to marry sometime next year.
Allowed to Flourish
At present, Shirin is embarking on yet another project. She is writing a book and designing a website that centers on self-transformation. Her ability to seek new ways of being creative and to keep learning she credits to her time at Northwest.
"I knew I was well educated but it's the culture of the school that stands out for me. It cultivated and nurtured my creativity. I was allowed to flourish and explore. I became acutely aware of my emotional intelligence and the importance of it. That has been a huge benefit."
After a moment of thought, Shirin adds: "I really think Northwest School made me. The school was an amazing idea that came to fruition and a lot of people really benefitted from it. I feel really lucky to be one of them."